AI Products / Services
System Design Service
AI Products / Services
System Design Service
Overview
DMP provides a consistent system design service from RTL provision to application development.
DMP provides RTL with optimum performance, power consumption, and logic scale according to the customer environment that adopts the DMP IP core.
DMP proposes the most suitable system for various products based on the know-how cultivated from the adoption results.
DMP strongly supports the differentiation of customers' products.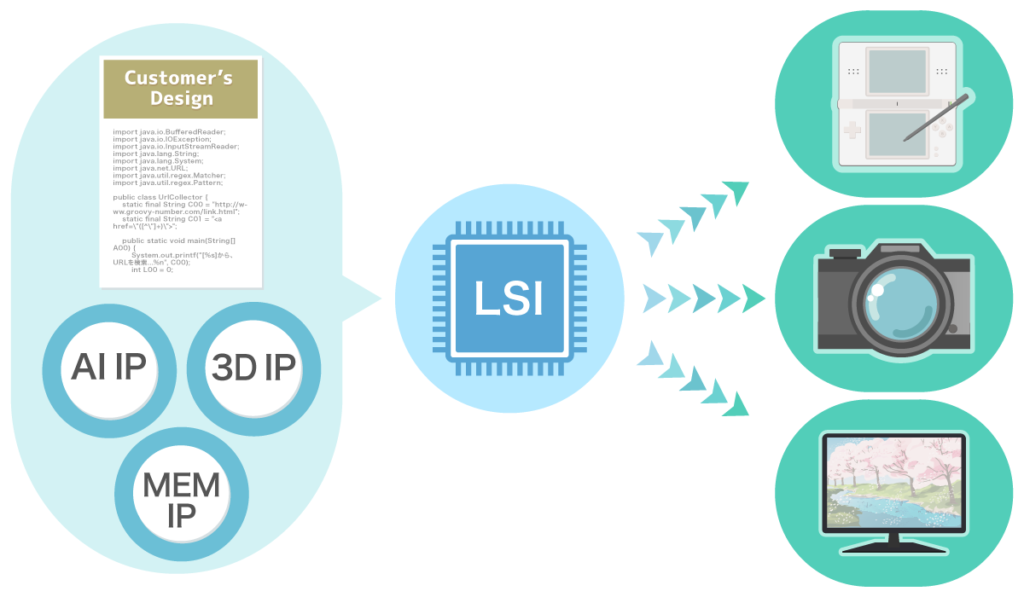 Specific Implementing Function Examples
Implementing functions
AI accelerator, GPU (2D/3D), Image processing function (ISP), Memory controller, Interconnect
Adopted products
Graphic LSI, Camera LSI (consumer camera, surveillance camera), Game console, TV, etc.
Implementation Steps
DMP provides various services such as device mounting, SDK porting, driver development, application development, and system evaluation.
1. Hearing of Required Specifications

Make design specifications and plans and conduct a review based on the required specifications submitted by customers

Submit a quotation and a proposal

2. Circuit Design

Design the optimum circuit that satisfies the required specifications and carry out design reviews for customers as well

Possible to develop and design driver and software as needed

3. Operation Verification

Verify the operation based on the design specifications and verification specifications. Also carry out verification reviews for customers

4. Delivery and Support

Deliver the deliverables (encrypted RTL, design data, etc.) to customers along with the report and provide ongoing support as well